By Okoye Chinenye
Just in case you are wondering, THESE ARE NOT BURNS. For me, anyone walking around with whitish patch skin discolorations was either fire victims or had contact with hot water which by the way, I  had first-hand experienced. *shudders* but that is a story for another day.
So, I continued to exist with such notion until I began seeing people with these white patches in awkward places like on the nose, between the fingers or on the eyebrow and I got confused.
Eventually, my confusion wasn't going to last long because I met and got talking with someone with the whitish discolouration right on the nose and I knew it had to be something more ….plus I would sound really stupid if I asked him how he managed to get just his nose burnt.
That long-term skin condition characterised by patches of the skin losing their pigment it's definitely not as a result of Fire or hot water injuries but is called VITILIGO.
It is believed to be due to genetic susceptibility that is triggered by an environmental factor such that an autoimmune disease occurs in the destruction of skin pigment cells.
Painfully, there is no known cure for vitiligo. For those with light skin, sunscreen and makeup are all that is typically recommended. Other treatment options may include steroid creams or phototherapy to darken the light patches. Alternatively, efforts to lighten the unaffected skin, such as with hydroquinone may be tried
No wonder Micheal Jackson turned from a Negroid to a caucasian overnight. Yes, he had vitiligo and as a vitiligo ignoramus (that I 'was'), I thought he changed his skin colour because he was ashamed of his race.*SMHFM* (Shaking my head for myself).
If you are just like me, a few pointers for you; Vitiligo is painless and simply a lack of skin pigmentation, It is an autoimmune disease, It can come and go on and off throughout one's lifetime, it's not just a black man's disease and Keep calm, It's not contagious.
Even though it's not a painful ailment, people with Vitiligo suffer psychological and emotional issues as they are sometimes isolated and called names just like the famous Model Chantelle Brown-Young, aka Winnie Harlow who was called "Zebra" and "Cow" while growing up.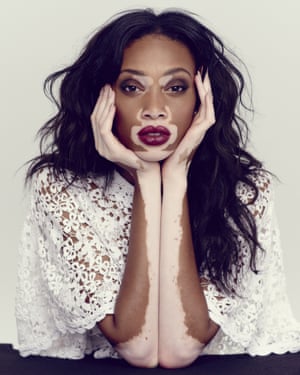 Today, Vitiligo has become a must have accessory in the fashion world. All thanks to Chantelle Winnie and the likes of her who have learned to embrace their conditions and love themselves the way they are. #Lesson