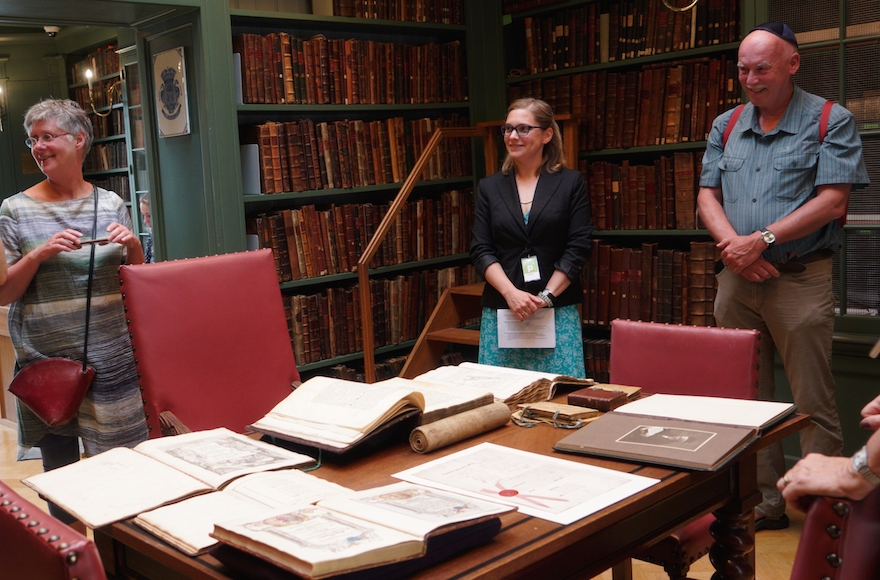 The 400 year old Livraria Ets Haim library is the world's oldest fuctioning Jewish library founded in 1616 by Jews who fled Catholic persecution in Spain and Portugal, the three-room library is adjacent to Amsterdams majestic Portuguese Synagogue in the Dutch capitals center.
It contains about 30,000 books most of which are manuscripts written by people who fled the Inquisition on the Iberian Peninsula or their descendants.
Ets Haim as a whole faced a similar fate or worse in 1940, when the Nazis invaded the Netherlands and had 75 percent of its Jews murdered. Yet the Nazis left the Portuguese Synagogue intact, and instead of burning the librarys collection, they shipped the books to Germany. The collection was discovered there, with light damage, after the war.
After the war, the books were returned to Amsterdam. But the Dutch Jewish community lacked the resources to preserve the collection. Library curators determined that the Ets Haim building would need to be renovated thoroughly to ensure the proper conditions, so in 1979 the books were sent to Israel.
Following extensive renovations to the building, which dates to 1675, the collection returned home in 2000. And now, relying upon 21st-century technology, its custodians are determined to make the librarys works accessible to interested parties around the world. The aim, according to Ets Haims curator, Heide Warncke, is to ensure that the knowledge stored between its pages is never lost again.
Ets Haims curator, Heide Warncke explained that Ets Haim collection was added to UNESCOs list of World Heritage items in 2003 because of its richness to its genesis from Iberian Jews.
According to her, Jewish immigrants were pioneers in philosophy, innovation, trade and medicine. When they fled the Inquisition, they brought knowledge to the Netherlands on theology, astronomy (as evidenced in Ets Haims Hebrew-language book from the 17th century titled Collection of Astronomical Treatises) and medicine.
The National Library of Israel has partnered with Ets Haim to digitize its entire catalog and to make everything available online for free.
"Digitization is one of the possibilities to make our manuscripts accessible to a bigger audience. That can lead to more knowledge. There are many secrets still to be unlocked, siad Warncke.
Source: Jewsih Telegraphic Agency